Card My Yard Wake Forest
"Hi ya'll, I'm Jennifer and I've lived in the Triangle area for 30+ years. I am an alum of NCSU where I began my involvement with my sorority, Alpha Phi. Go PACK!! I am a wife, mom to two amazing kids and four furbabies! I am actively involved in my community, have a love of animals, and thoroughly enjoy bringing JOY to people of all ages! In my spare time I enjoy volunteering for the benefit of my four legged friends.
Card My Yard is a fabulous way to bring people extra JOY for any occasion. BIRTHDAYS, ANNIVERSARIES, GRADUATIONS, BABY SHOWERS, HOLIDAYS, OPEN HOUSES, WELCOME HOME, SCHOOL, and CHURCH events. If you can CELEBRATE it we can CARD the YARD!
Thank you for choosing Card My Yard Wake Forest.
A Card My Yard yard greeting is the best gift for birthdays, graduations, anniversaries, birth announcements and more. We are a full service yard sign rental company - you book the order and we take care of the rest. Proud to serve: 27545, 27587, 27591, 27616, 27571, 27596and 27609.
This is an independently owned and operated franchise licensed by Card My Yard Franchising, LLC.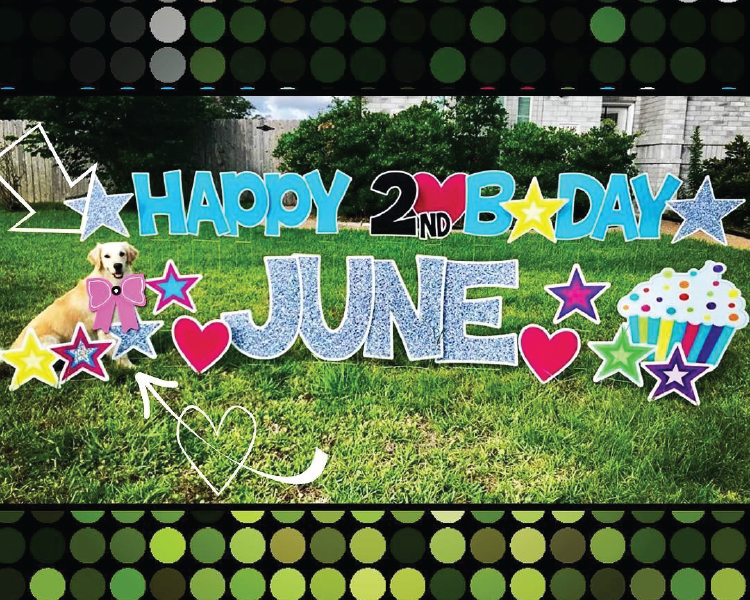 Choose Your Product
Fonts
(Hover for name)
Bandana Paisley Blue Happy Birthday
Black & Gold Chevron Happy Birthday
Blue Glitter Happy Anniversary
Blue Glitter Happy Birthday
Blue Glitter Welcome Home
Bright Blue Happy Birthday
Camo Green Happy Birthday
Collegiate Silver Congrats
Multicolor Glitter Happy Birthday-Boy
Multicolor Glitter Happy Birthday-Girl
Multicolor Happy Birthday-Girl
Pink Glitter Happy Birthday
Silver Glitter Happy Anniversary
Silver Glitter Happy Birthday
Graphics
(Hover for name)
Animal: Purple & Yellow Butterfly
Animal: Unicorn with Rainbow
Birthday Cake: 2 Tier yellow-Red
Birthday Cake: 3 Layer Black and Silver
Birthday Cake: 3 Tier Blue, BrightBlue, Yellow Cake
Birthday Cake: 3 Tier Orange Green Pink Cake with Blue Base
Birthday Cake: 3 tier- pink, green blue
Birthday Cake: 3 tier- purple, pink, yellow icing
Birthday Cake: 3 tier- Red, Blue, Yellow
Birthday Cake: Gold Glitter and Black
Birthday Cake: HBD Chocolate
Birthday Cake: Pink and turquoise w/ Yellow star candles
Birthday Cake: Single Layer Red Cake with Lime Green Frosting
Birthday Cake: Strawberry w/ sprinkles
Birthday Cake: Unicorn Cake
Birthday Party Hat: Black and Gold
Birthday Party Hat: Black and Silver
Birthday Party Hat: blue and red
Birthday Party Hat: Pink with Polkadots
Birthday: Party Popper Blk/Silver- Left
Birthday: Party Popper Blk/Silver- Right
Birthday Present: Black/Silver Chevron
Birthday Present: Black with Gold Glitter Bow/Stars
Birthday Present: Blue- Red stripes
Birthday Present: Bright Blue with Blue Glitter Bow/Stars
Birthday Present: Multicolor Boy
Birthday Present: Multicolor Girl
Birthday Present: Pink with Blue Glitter Bow/Stars
Birthday Present: Red with Black Bow
Birthday Present: Royal Blue with Green Glitter Bow/Stars
Character: CARS Lightning McQueen
Character: Mouse Ears - Mickey
Character: Mouse Ears - Minnie - Pink Bow
Character: Paw Patrol-Marshall
Character: Paw Patrol Rubble
Character: Princess Castle
Character: Star Wars - R2-D2
Christmas: Christmas Truck - Red
Christmas: Elf on the Shelf Boy
Christmas: Ornament- Red and White dot
Christmas: Rudolph the Reindeer
Christmas: Santa in the Chimney
Clothing/Accessories: Nail Polish
Clothing/Accessories: Orange Flower Flip Flops
Clothing/Accessories: Pink Glitter Princess Crown
Fall: Sugar Skull- Yellow
Fireworks: Black and Silver
Fireworks: Bright Blue/silver
Fireworks: Red and Silver
Fireworks: Red, White & Blue
Fireworks: Royal Blue and Silver
Fireworks: Royal Blue/Gold
Food: Cupcake - Blue with Chocolate
Food: Cupcake - Colorful Sprinkles
Food: Pink Sundae with Candy & Star Sprinkles
Game: Game Controller: Black
Grad Cap: "Class Of"- Black
Grad Cap: w/ Gold Diploma
Grad Cap: w/ Silver Diploma
Graduation: Congrats Grad Circle- gold
Graduation: Congrats Graduate- black circle
Graduation: Congrats Graduate Circle- Black & Green
Graduation: Congrats Graduate w/ Gold Diploma
Graduation: Congrats Graduate w/ Silver Diploma
Graduation: Diploma - Gold
Graduation: Diploma - Silver
Graduation: Grad cap on books
Graduation: GRAD Square Stacked - Royal and Gold
Graduation: GRAD Square Stacked- silver/blue
Graduation: Graduate- Female
Graduation: Graduate- Male
Graduation: Senior Friends- Black
Graduation: Worth the Hassle - Silver
Halloween: 3 Jack O Lanterns
Pennant - ECU (East Carolina University)
Pennant - Gibbons (Cardinal Gibbons High School)
Pennant - GO CRUSADERS (Cardinal Gibbons High School)
Pennant - Go Pirates (East Carolina University)
Speech Bubble: Honk- black
Transportation: Car Keys- Large
Transportation: Jeep - Black
Transportation: Monster Truck
Transportation: VW Bug with flowers
Addons
(Hover for name)
SUPER BIRTHDAY: HAPPY BIRTHDAY Rainbow
SUPER CAKE - 3 Tier Blue, Bright Blue, Yellow
SUPER CAKE - Unicorn Cake
SUPER PARTY HAT- Blue and pink polka dot
SUPER SIGN: Diploma- Gold
SUPER SIGN: Grad Cap - Silver
SUPER SIGN: HAPPY ANNIVERSARY Black and Gold