Card My Yard Spokane
Hello we are the Stevens Family and are excited to introduce you to the hearts behind CARD MY YARD SPOKANE! We are an entrepreneurial, retired military family who have put down roots in Spokane after living all over the country with the Marine Corps.

Scarlett is the oldest child, lover of sports and is excited to be the CEO of this whole business. Miller is the lego building master who is excited about making everyone feel special. Juliette is our creative girl and has imagined so many beautiful card displays and colors. Violette is our joyful tornado who is always along for any fun. And finally, our Asher man is a smiley baby who is along for the ride! John is a retired Marine officer, super Dad, head CFO of the whole family and Laura is the Mom, CEO of our health and wellness business, head marketer and LOVES to celebrate any and all holidays.
Our kids are EXCITED to spread love and celebrations all throughout this beautiful PNW city through Card My Yard. Thank you for stopping by! Serve the Spokane area including: 99037, 99201, 99202, 99203, 99204, 99205, 99206, 99207, 99212, 99216, 99223, 99224, 99217, 99016, 99208, 99218, 99004, 99011 and 99022.
A Card My Yard yard greeting is the perfect gift for birthdays, graduations, anniversaries and celebrations of any size. We are a full service yard sign rental company - you book the order and we take care of the rest.
This is an independently owned and operated franchise licensed by Card My Yard Franchising, LLC.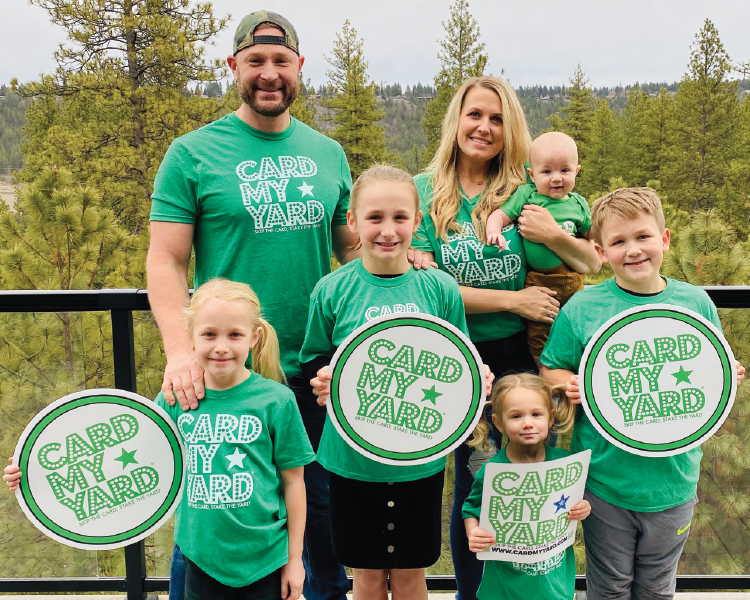 Choose Your Product
Fonts
(Hover for name)
Multicolor Happy Birthday-Girl
Purple Glitter Happy Birthday
Royal Blue Happy Birthday
Silver Glitter Happy Birthday
Turquoise Glitter Happy Birthday
Graphics
(Hover for name)
America: United States Air Force
America: United States Marines
Animal: Bulldog - Purple Collar
Birthday Cake: 2 Tier yellow-Red
Birthday Cake: 3 tier- pink, green blue
Birthday Cake: Gold Glitter and Black
Birthday Cake: HBD Chocolate
Birthday Cake: Yellow Dot
Birthday Present: Blue- Red stripes
Birthday Present: Multicolor Boy
Birthday Present: Multicolor Girl
Character: Captain America
Character: Ice Princess - Elsa
Character: Mouse Ears - Mickey
Character: Mouse Ears- Minnie
Character: Star Wars - Darth Vader
Character: Star Wars - Yoda
Clothing/Accessories: Pink Glitter Princess Crown
Fireworks: Black and Silver
Fireworks: Red, White & Blue
Fireworks: Royal Blue and Silver
Game: Game Controller: Black
Grad Cap: w/ Silver Diploma
Grad: Congrats Grad Circle- gold
Grad: Congrats Grad Circle- silver
Grad: Congrats Graduate- black circle
Grad: Congrats Graduate w/ Silver Diploma
Grad: Heart- Gold Glitter "Senior"
Grad: Heart-Silver Glitter"Senior"
Heart: Glitter Silver-Double Digits
Other Graphic: Hand Sanitizer
Other Graphic: Princess Castle
Pennant - Blackhawks (Spokane)
Pennant - Go Cats (Spokane)
Pennant - Go Cougs (Spokane)
Pennant - Go Dawgs (Spokane)
Pennant - Go Eagles (Spokane)
Pennant - Go Huskies(Spokane)
Pennant - Go Huskies(Spokane)
Pennant - Go Indians (Spokane)
Pennant - Go Knights (Spokane)
Pennant - Go Panthers (Spokane)
Pennant - Go Pirates (Spokane)
Pennant - Go Pups (Spokane)
Pennant - Go Saxons (Spokane)
Pennant - Go Tigs! (Spokane)
Pennant - Go Titans (Spokane)
Pennant - Go Zags (Spokane)
Pennant - Highlanders (Spokane)
Pennant - We Are CV (Spokane)
School Graphic: Backpack/school supplies- Blue
School: Midland HS Bulldog
Speech Bubble: Back to School
Speech Bubble: Welcome Back
Transportation: Car Keys- Large
Transportation: Checkered Flag
Transportation: Classic Car
Transportation: Firetruck
Transportation: Motorcross
Transportation: Motorcycle
Addons
(Hover for name)