Card My Yard Nampa
Hi Nampa! We are Lindsey and Michelle, the best sister in law pair. We are both married and each have two teenagers. We are looking forward to spreading joy through out Nampa. Please let us help you celebrate BIG!
Proud to serve: 83651 , 83686 and 83687
A Card My Yard yard greeting is the perfect gift for birthdays, graduations, anniversaries and celebrations of any size. We are a full service yard sign rental company - you book the order and we take care of the rest.
This is an independently owned and operated franchise licensed by Card My Yard Franchising, LLC.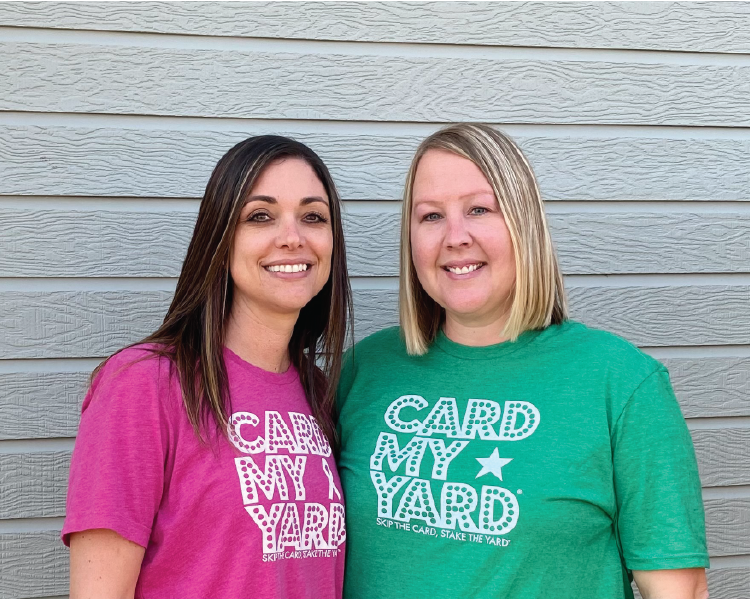 Choose Your Product
Fonts
(Hover for name)
Gradient Yellow/Bright Blue Happy Birthday
Multicolor Glitter Happy Birthday-Girl
Multicolor Happy Birthday-Boy
Multicolor Happy Birthday-Girl
Rainbow Chevron Happy Birthday
Graphics
(Hover for name)
Animal: Bulldog - Red Collar
Birthday Cake: 2 Tier yellow-Red
Birthday Cake: 3 tier- pink, green blue
Birthday Cake: HBD Chocolate
Birthday Cake: Pink and turquoise w/ Yellow star candles
Birthday Cake: Strawberry w/ sprinkles
Birthday: Party Popper Blk/Silver- Left
Birthday: Party Popper Blk/Silver- Right
Birthday Present: Blue- Red stripes
Birthday Present: Bright Blue with Pink and Yellow Stars
Birthday Present: Bright Blue with Purple Glitter Bow/Stars
Birthday Present: Multicolor Boy
Birthday Present: Multicolor Girl
Birthday Present: Pink and White Dots
Birthday Present: Pink with Silver stars
Character: Ice Princess - Anna
Character: Ice Princess - Elsa
Character: Mouse Ears - Mickey
Character: Mouse Ears- Minnie
Character: Mouse Ears - Minnie - Pink Bow
Character: Star Wars - Darth Vader
Character: Star Wars - R2-D2
Character: Star Wars - Yoda
Christmas: Stacked Presents
Clothing/Accessories: Orange Flower Flip Flops
Clothing/Accessories: Red Sunglasses
Emoji: Pink Heart Eye Emoji
Fireworks: Black and Silver
Fireworks: Red, White & Blue
Fireworks: Royal Blue and Silver
Flower: Hot Pink & Purple
Food: Cupcake - Colorful Sprinkles
Game: Game Controller: Black
Game: Play Station Game Controller - BLACK
Grad Cap: w/ Gold Diploma
Grad Cap: w/ Silver Diploma
Graduation: Diploma - Silver
Graduation: Graduate- Female
Graduation: Graduate- Male
Halloween: Purple Monster
Halloween: Witch Cauldron
Pennant: Boise State Broncos
School: Backpack/school supplies- Blue
School: Stack of Books with Worm
Addons
(Hover for name)
SUPER BIRTHDAY: HAPPY BIRTHDAY Script - White Gold & Black
SUPER CONGRATS Grad Silhouette - Black and Gold
SUPER CONGRATS Grad Silhouette - Black and Silver
SUPER FRAME - RAINBOW BURST
SUPER FRAME - SILVER GLITTER
SUPER WELCOME BACK (TO SCHOOL)