Card My Yard Middletown
Hi! My name is Jessica DeRubbio and I am the proud owner of Card My Yard Middletown. We are a family owned business and love being a part of so many celebrations on a daily basis! I am a mom to one beautiful daughter, Madison and one furry baby, our dog Jax. It has always been important to me to live by the saying "be the reason someone smiles today". When I was introduced to Card My Yard I knew in my heart it was something I was meant to do! I can't think of a better way to make someone smile from ear to ear. I am excited to spread joy and happiness one yard at a time and look forward to celebrating with you!
This is an independently owned and operated franchise licensed by Card My Yard Franchising, LLC.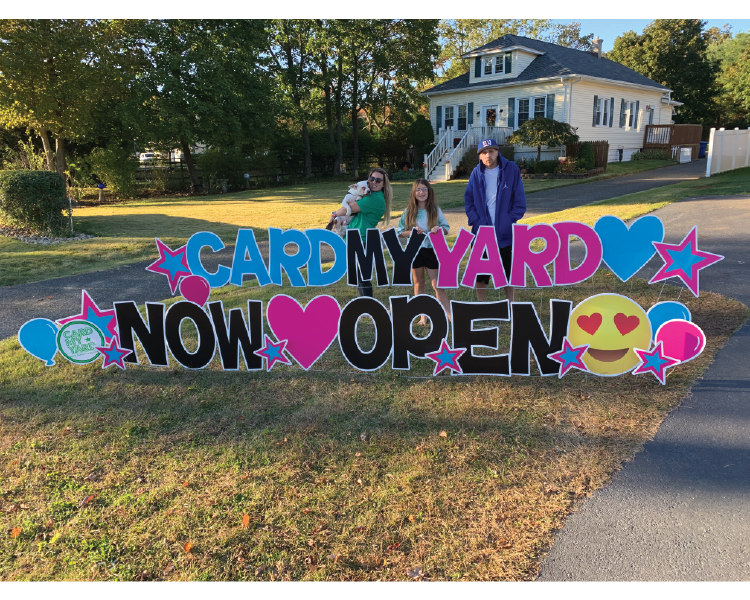 Choose Your Product
Fonts
(Hover for name)
Blue Glitter Happy Anniversary
Blue Glitter Happy Birthday
Bright Blue Happy Birthday
Multicolor Glitter Happy Birthday-Boy
Multicolor Glitter Happy Birthday-Girl
Multicolor Happy Birthday-Boy
Multicolor Happy Birthday-Girl
Pink Glitter Happy Birthday
Purple Glitter Happy Birthday
Royal Blue Happy Birthday
Silver Glitter Happy Anniversary
Silver Glitter Happy Birthday
Turquoise Glitter Alphabet
Turquoise Glitter Congrats
Turquoise Glitter Happy Birthday
Turquoise Glitter Mazel Tov
Yellow Glitter Happy Birthday
Graphics
(Hover for name)
America: Firefighter Helmet
America: United States Army
America: United States Marines
Animal: Hen with 5 Chicks
Animal: Penguin with Candy
Animal: Unicorn with Rainbow
Birthday Cake: 2 Tier yellow-Red
Birthday Cake: 3 Layer Black and Silver
Birthday Cake: 3 tier- pink, green blue
Birthday Cake: 4 Tiered Pink and Turquoise
Birthday Cake: HBD Chocolate
Birthday Cake: Strawberry w/ sprinkles
Birthday: Party Popper Blk/Silver- Left
Birthday: Party Popper Blk/Silver- Right
Birthday Present: Black with Gold Glitter Bow/Stars
Birthday Present: Blue- Red stripes
Birthday Present: Bright Blue with Blue Glitter Bow/Stars
Birthday Present: Multicolor Boy
Birthday Present: Multicolor Girl
Birthday Present: Purple Stars
Birthday Present: Purple with Pink Glitter Bow/Stars
Birthday Present: Royal Blue with Green Glitter Bow/Stars
Character: Astronaut w/ Flag
Character: Barbie Silhouette
Character: Captain America
Character: Captain Hook's Pirate Ship
Character: Cat in the Hat
Character: Ice Princess - Anna
Character: Ice Princess - Elsa
Character: Mermaid - Red Head Swimming
Character: Mouse Ears - Mickey
Character: Star Wars - Baby Yoda in Hover Pod
Character: Toy Story Aliens
Character: Toy Story Buzz
Christmas: Chevron Tree- Red and Green
Christmas: Christmas Tree
Christmas: Elf on the Shelf Girl
Christmas: Rudolph the Reindeer
Christmas: Santa in the Chimney
Christmas: Snow Globe w/ Snowman
Clothing/Accessories: Make Up Bag
Clothing/Accessories: Pink Glitter Princess Crown
Clothing/Accessories: Tutu
Emoji: Party Blower - Girl
Flower: Peachy Pink with Petals
Food: Cupcake - Colorful Sprinkles
Food: Sundae with a Strawberry on top
Game: Among Us Shhh Imposter
Game: Fortnite #1 Victory Royale
Game: Game Controller: Black
Game: Play Station Game Controller - BLACK
Graduation: 2021 Collegiate Circle Silver & Black
Graduation: Diploma - Silver
Halloween: 5 Little Pumpkins
Halloween: Orange Green Slime Monster
Halloween: Pumpkin- Trick or Treat
Halloween: Witch Cauldron
Movie/ Theater: Movie Clapboard
Movie/Theater: Theatre Mask
Music: Microphone - Black
Religious: Eucharist Chalice
Religious: "My First Communion"- Blue
Religious: Star of David - SILVER
School: Happy Earth with Heart
School: Stack of Books with Worm
Speech Bubble: Black/Silver Happy Birthday Script
Speech Bubble: SURPRISE! Boy
Speech Bubble: Sweet 16 Burst
Speech Bubble: Taco-Bout Awesome
Speech Bubble: Time to Celebrate- Blue
Sport: Karate Kick Silhouette
Sport: New York Giants Football Jersey
Sport: New York Jets Football Jersey
TOYS: Pop It - Rainbow Drink
Transportation: Car Keys- Large
Transportation: Driver's License
Transportation: Yellow Red Monster Truck
Valentines: Heart Balloon Bundle
Valentines: I LOVE U - Pink
Addons
(Hover for name)
Light My Yard with LED Lights
SUPER BIRTHDAY: HAPPY BIRTHDAY Ombre Bright Blue, Purple, Pink
SUPER BIRTHDAY: HAPPY BIRTHDAY Ombre Bright Blue to Green
SUPER BIRTHDAY: HAPPY BIRTHDAY Rainbow
SUPER CAKE - 3 Tier Blue, Bright Blue, Yellow
SUPER CAKE - Pastel 3 Layer 4 Candles
SUPER CAKE - Unicorn Cake
Super Congratulations - Glitter Black
SUPER FRAME - RAINBOW BURST
SUPER HOLIDAY - SLIME BOO
SUPER LARGE BALLOON - BRIGHT BLUE