Card My Yard Bridgeport
Hi! My name is Jenny Reed and this is my family. I married my high school sweet heart, Steve Reed Jr., and I am the proud soccer mom of our active daughter, Kaylee. I was born and raised in Bridgeport, and I am lucky enough to still be apart of this amazing City in WV. I have a degree in Graphic Design, and I am currently a paint instructor at The Starving Artist Studio located in the heart of Bridgeport. Our "Pride of the Mountaineers" runs deep in these beautiful hills of West Virginia, and I am excited to be bringing more beauty and fun to our state by introducing "CARD MY YARD". This is an independently owned and operated franchise licensed by Card My Yard Franchising, LLC.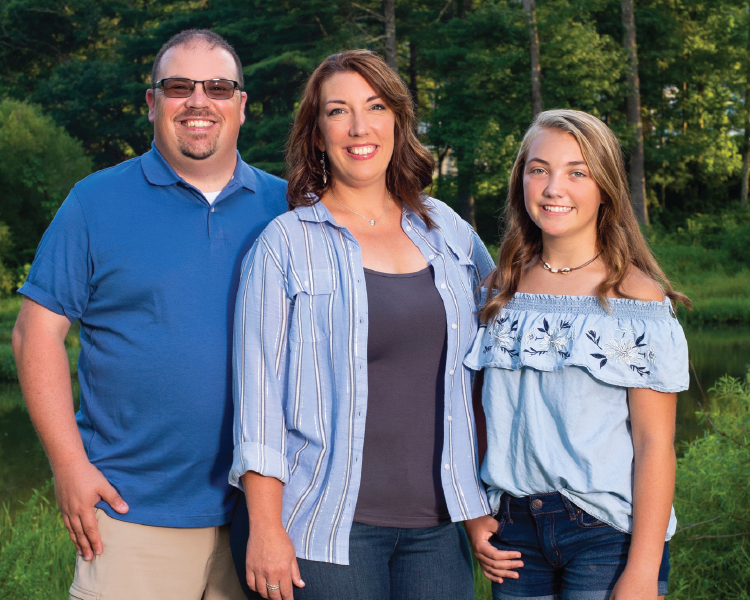 Choose Your Product
Fonts
(Hover for name)
Black & Gold Collegiate Happy Birthday
Bright Blue Happy Birthday
Gold Balloon Happy Birthday
Pink Polka Dot Happy BIrthday
Pink & Turquoise Chevron Happy Birthday
Purple Glitter Happy Birthday
Rose Gold Glitter Alphabet
Rose Gold Glitter Congrats
Rose Gold Glitter Happy Birthday
Royal Blue Happy Birthday
Silver Glitter Happy Birthday
Graphics
(Hover for name)
America: Statue of Liberty
Animal: Angel Fish - Blue
Animal: Butterfly- Monarch
Animal: Unicorn Head Small
Birthday Cake: 2 Tier yellow-Red
Birthday Cake: 3 tier- pink, green blue
Birthday Cake: Gold Glitter and Black
Birthday Cake: Happy Birthday Candles
Birthday Cake Slice: Girl
Birthday: Cupcake- cherry
Birthday: Over the Hill Grave
Birthday: Party Hat- Black and Gold
Birthday Party Hat: Blue-Teen Scene
Birthday Party Hat: Pink- Teen Scene
Birthday Present: Black with Gold bow
Birthday Present: Blue Green
Birthday Present: Blue- Red stripes
Birthday Present: Multicolor Boy
Birthday Present: Multicolor Girl
Birthday Present: Purple Stars
Birthday Present: Red and Gold Bow
Birthday: Present- Rose Gold with stripes
Birthday Present: Tall Pink and Turquoise
Character: Cheerleader-Black and grey with blonde hair
Character: Cheerleader - Black and grey with dark hair
Character: Mouse Ears - Minnie - Pink Bow
Character: Paw Patrol: Chase
Edible: Champagne Glasses
Edible: Margarita Glasses
Fireworks: Red and Silver
GAME: Game Controller: Black
Grad: 2020 Stacked- Black
Grad Cap: "Class Of"- Black
Grad: Class of 2020 Sunglasses
Grad: Class of 20 TP- Black & Silver
Grad: Class of 20 TP- White & Black
Grad: Senior Friends- Black
Holiday: Easter Egg - Chevron
Holiday: Easter Egg - Rainbow Dot
Holiday: Easter Egg- Rainbow Waves
Other Graphic: Coon Skin Hat
Pennant:Bridgeport- Braves
Pennant: Bridgeport- Eagles
Pennant: Bridgeport- Indians
Pennant - Lincoln East (Lincoln)
Pennant - West Virginia Mountaineers
School Graphic: Kids Holding Hands
School Graphic: Painters Palette
School: Marching Band Hat
Speech Bubble: Comic -"BOOM"
Speech Bubble: Honk- blue
Speech Bubble: Honk- pink
Sport: Soccer Silhouette- Female
State Graphic: West Virginia
Transportation: Airplane - Black
Transportation: Cement Truck
Transportation: Monster Truck
Transportation: Motorcross
Transportation: Motorcycle
Transportation: Police Car
USA: Flag- US Service Flag
Addons
(Hover for name)